Examination Questions in Data Interpretation - 6
Click on the option you think is right and then check by clicking on the Show Answer button. You can change your option as many times as you like.
The following pie-chart shows the marks scored by a student in different subjects – viz. Physics (Ph), Chemistry (Ch), Mathematics (M), Social Science (SS) and English (E) in an examination. Assuming that total marks obtained for the examination is 810, answer the questions.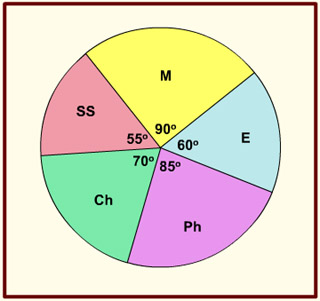 1. The subject in which the student obtained 135 marks is  
Chemistry
English
Mathematics
Physics
2. The marks obtained in English, Physics and Social Science exceed the marks obtained in Mathematics and Chemistry by  
10 1/9%
11%
11 1/9%
10%
3. The difference of marks between Physics and Chemistry is same as that between  
Mathematics and English
English and Social Science
Physics and English
Chemistry and Social Science
4. The marks obtained in Mathematics and Chemistry exceed the marks obtained in Physics and Social Science by  
40
45
50
30
5. The average of marks obtained in Mathematics, English and Chemistry is  
165
200
155
148